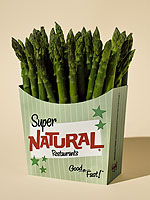 Dan Winters
Who hasnt unwrapped a sandwich while driving down the highway or pulled a hard U-turn into a fast-food joint on the way home from a late meeting or soccer game? We practically live in our cars, so we need quick food, and please, wed like it to be healthy.
Well, guess what: We surveyed the nations 100 largest fast-food chains, as defined by the number of locations, and found many are creating menus that look more and more like what wed cook ourselves (if we had the time)—from nutritious soups and healthy salads to fresh whole grains and sensible desserts. Even better: Theyre offering good-news Mexican, Asian, and Mediterranean fare.
Using
criteria that was created with the help of our expert panel
, we scored the chains on such factors as the use of healthy fats and preparations, healthy sodium counts in entrees, availability of nutritional information, and the use of organic produce to determine the 10 highest-ranking restaurants.
One big surprise: A traditional fast-food chain, McDonalds, cracked our top 10. Sure, its the home of the Big Mac, but did you know it also serves a mean yogurt-and-granola parfait? Here, the standouts that are making grabbed food healthy food.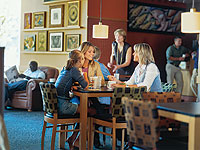 #1 Panera Bread
Over 1,230 locations nationwide (and in Canada)
This bakery-cafe-based eatery wowed our judges with a comprehensive menu of healthy choices for every meal. "Variety makes it easy for everyone to choose healthy," praises registered dietitian and panelist Marisa Moore. What does that mean for you? For starters, you can pick from two whole-grain breads for your sandwich and have an apple with it instead of chips (though the chips are fine, too—they can be baked!). Half-size soups, salads, and sandwiches make it a cinch to control portion size. Also, most of the chicken is antibiotic- and hormone-free, a rarity for large chains.
Panera also won top honors for kid fare, dishing out RD-approved crowd-pleasers like squeezable organic yogurt, PB&J (with all-natural peanut butter), and grilled organic cheese on white whole-grain bread.
We love:
Delicious, nutrient-packed combos like a half–Turkey Artichoke on focaccia bread with a bowl of black bean or garden vegetable soup.
Danger zone:
Sticky buns and cheese danishes are on display at the counter.
View this article as a gallery.