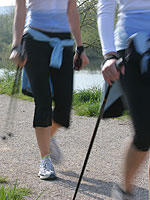 The next time you take a walk, why not burn more calories, blast more fat—and have more fun? Its easy when you mix and match our five pumped-up walking workouts.
Each one—created by Mark Fenton, author of
The Complete Guide to Walking: Stepping Your Way to Health, Weight Loss, and Fitness
—hikes the burn by adding a secret ingredient. Whether you add a friend or poles, youll get more sizzle out of every step.
Add poles
Walking with Nordic poles can amp up your calorie burn by 20 to 46%, depending on terrain and how vigorously you push off with the poles. Plus, "using poles actually makes your workout feel easier, builds upper-body strength, and takes some stress off your knees," Fenton says.
The pole workout
Total time: 45 minutes
Bonus calories burned: 90
1.
Walk at an easy pace for 8 minutes, swinging and pushing off gently with the poles to warm up.
2.
Gradually increase your pace to a brisk walk with full poling motion for 12 minutes.
3.
Alternate 2 minutes vigorous poling at a brisk walk with 2 minutes gentler poling at a slower pace, for a total of 14 minutes.
4.
Alternate 1 minute bounding (jumping from one giant step to the next) and poling vigorously with 1 minute walking and gentle poling, for a total of 6 minutes.
5.
Walk or pole at an easy pace for 5 minutes to cool down.