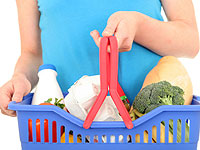 Times are tough, money is tight, but that doesnt mean you need to give up your healthy lifestyle. Sure, eating organic food can be more costly, and working out with a personal trainer aint cheap—but there are easy steps you can take that will shave hundreds or even thousands of dollars off your monthly expenses.
From free home-gym equipment to discount prescription drugs, cheaper medical procedures, and health insurance that pays you back, the opportunities to save money on healthy living are plentiful. Heres how to take advantage of them today.
Eat organic (cheaply)
Buy organically grown: You dont need certified organic, just organically grown. Some farmers use organic farming practices but have chosen not to become certified organic because of the added red tape and expenses. This means you can often buy organic fruits and veggies from these farmers for around 50 percent less than what the certified farmers charge.
Plan around your protein: Look for sales on free-range or naturally-raised meats and buy them first, says nutrition educator Amanda Louden of Gold River, California, who writes
EatYourRoots.org
. Youll save twice: You will get your protein on sale and be able to better plan (and buy less) to fill out your meals.
Be super-choosy: You dont need to buy organic when fruits and veggies have a protective layer that you dont eat (like bananas and watermelon) or when theyre unlikely to have been sprayed heavily with pesticides (like blueberries and kiwi). Check out this chart for guidance:
| Do Buy Organic | Don't Buy Organic |
| --- | --- |
| Apples | Asparagus |
| Celery | Bananas |
| Grapes | Blueberries |
| Lettuce | Broccoli |
| Peaches | Cauliflower |
| Strawberries | Kiwi |
| Potatoes | Onions |
| Tomatoes | Watermelon |