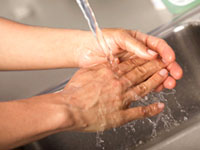 Anne Coulter, 45, of Evanston, Illinois, knew her stove burners were off. She knew it. And, yet, before she left the house she sometimes checked them three or four times, just to make sure. Was being a little "OCD" okay or was this behavior a sign of severe Obsessive-Compulsive Disorder?
We all have our little rituals that give us comfort and help us cope—especially amid worries about a sinking economy, tainted peanut butter, and the rising cost of health care. Some women count to 10 before driving on when the light turns green, aren't comfortable unless they have hand sanitizer in their purse (car, desk drawer), or kiss their children on the forehead three times every night before bed.
It's even trendy these days for anyone who's a neat freak or a little worried about germs to say, "I'm sooo OCD"—shorthand for obsessive compulsive disorder, the mental illness we all know about (and think we have) thanks to TV's Monk. If you've alphabetized your CD collection or have a morning ritual like Coulter's, you know what we're talking about—and you're not alone.
Nearly half of us do engage in some of the rituals associated with OCD, and some of us have a subclinical version of the disorder. "Almost everyone washes their hands sometimes when they don't need to," says Jonathan Abramowitz, PhD, director of the University of North Carolina Anxiety Disorders Clinic. It would be hard to find someone who hasn't had an occasional obsession or compulsive urge, he says: unwanted thoughts of something bad happening or the need to check the locked door.
"For most of us, those things don't cause lots of distress, interfere with our jobs or relationships, or take an inordinate amount of time—and that's what differentiates people with clinical OCD from everyone else," Abramowitz says.