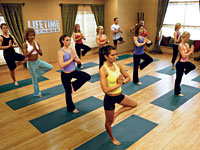 2. Life Time Fitness
Life Time grabbed top scores from panelists for its large, dynamic clubs that style themselves as "day resorts for the entire family." "Innovative and first-class," notes panelist Cedric Z. Bryant. "Crazy awesome," Lyons says. "If you cant get fit and have fun doing it at Life Time, youre in trouble!"
Our experts were struck by the outstanding variety of exercise equipment and classes, plus its top-drawer staff and training. Nutritionist Christine Avanti gives special credit to its LifeCafe menu, which boasts all-natural items with a Mediterranean flair, like the Chicken Basil Pesto Sandwich (along with the usual smoothies and wraps).
"This club understands the importance of good nutrition," she says. Green expert Jen Boulden gives Life Time her highest score for eco-friendly touches like the widespread use of natural light and progressive energy- and water-saving practices.
We love:
Rock-climbing walls for a fun, adventurous, family workout.