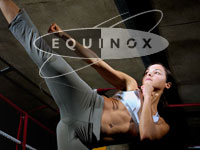 Choosing a gym can feel a bit like choosing a spouse: You want it all, you deserve it all. And once you sign on the dotted line, it had better be a rewarding, motivating, and healthy relationship!
So, consider us your health-club matchmakers. In a world where every gym promises to be your be-all and end-all, its hard to tell which major gym and health-club chains actually live up to the hype.
Weve assembled a
panel
of expert trainers, nutritionists, and practice mavens to find out which clubs
offer you the most
—from healthy, clean environments to the best, safest exercise equipment, from personal training to classes that will keep you motivated, plus food and drink to help you reach your goals. Read on for your perfect match.

1. Equinox Fitness Clubs
Let us count the ways this stellar club wowed our experts, notching 14 perfect 10s. Every detail counts here: rigorous cleanliness; impressive, extensive equipment (from kettlebells to nearly a dozen varieties of cardio machines); and impressively trained staff—all leading to safe, healthy (and fun) workouts.
"The range of specializations among the staff gives them a perfect 10," says fitness expert Kim Lyons, who was also impressed by Equinoxs fantastic class offerings. "An excellent variety with a unique touch taught by knowledgeable trainers earns them a double thumbs-up!" she adds. Equinoxs mind-body classes (such as their new Buddha Camp, a boot-camp-style workout that incorporates elements of yoga, Tai Chi, and Pilates) earns a perfect score from judge Kristin McGee. "They really think outside the box," she says.
We love:
PowerNAP+, a midday movement class that culminates in a short snooze to "improve mood, enhance mental concentration, and reverse information overload." Brilliant and progressive.