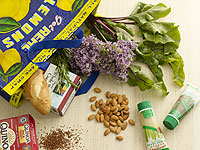 Yunhee Kim
Lets face it: The dream of having our very own personal spa chef whip up delicious, good-for-us grub probably isnt happening in this economy. So we found the next best thing—great stuff that makes eating healthy affordable and, honestly, almost effortless. Check out our top picks:
1. The end of the brown rice rut
Because nobody has an hour to devote to a midweek side dish, quick-cooking quinoa and whole-wheat couscous are truly revolutionary. With the same satisfying texture and nutty flavor as brown rice (plus more fiber), these 10-minute grains give new meaning to fast food.
2. Almonds by the pound
If youre sick of schlepping to crunchy co-ops to buy nuts, dried fruit, and grains in bulk, youll be happy to hear that mass grocery stores are rediscovering these money-saving bins. That means we can buy less-processed, less-pricey raw almonds, unsalted sunflower seeds, organic trail mix, and more where we stock up on milk and other basics.
3. Generation 2.0 market bag
Buying fresh means buying often. And if youre biking or walking to the market to stock up, you need a tote thats up to the task. The new reusable, planet-friendly bags do it all—theyre big enough to carry loads of goodies, truly leakproof, and way cuter than granny carts. On the fence about bringing your own? A single reusable bag could eliminate more than 1,000 plastic grocery bags in its lifetime.
4 and 5. Our own herb stash—and mincer!
Fresh herbs add flavor and depth to a dish but practically zero calories and no fat. They also bruise easily, spoil quickly, and arent cheap. So were all for the grow-your-own-herbs window boxes that are everywhere now. Get an herb mincer to prevent bruising those delicate leaves. If you have a black thumb, herbs in a tube are a good alternative to the fresh stuff. With a fridge shelf life of three months, your cilantro wont go bad before you can use it up.