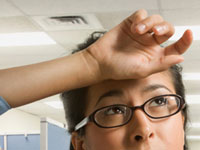 Even if you manage to get to bed at a decent hour most nights, we're willing to wager that you're exhausted. Women complain about feeling tired nearly four times as often as men. But if your fatigue is so crippling that it makes it hard to care for your family, do your job, or enjoy your social life—and lasts for several weeks—don't just blame the draining demands of modern life.
Fatigue can be a symptom of everything from the mundane to the life-threatening, says Neil Shulman, MD, associate professor in the department of medicine at Emory University Medical School and co-author of
Your Body's Red Light Warning Signals
. And, while figuring out what's wrong can be challenging, experts insist that many of the reasons for exhaustion are easy to fix. Talk to your doctor about the following possibilities.
No-need-for-alarm reasons you're tired:You're low on Vitamin B12
The nutrient is an energy booster that maintains healthy nerve cells and oxygen-transporting red blood cells. If you're low, you may feel draggy. You might also suffer from constipation or diarrhea, says women's-health expert Sandra Fryhofer, MD, past president of the American College of Physicians-American Society of Internal Medicine. If left unchecked, a deficit can lead to numbness and tingling in the hands and feet, difficulty with balance, poor memory, and confusion.
What to do:
A B12 blood test (your doc can do the test in the office by taking blood from your arm) will reveal your level. B12 comes mainly from animal sources, so make sure your diet includes dairy, eggs, meat, or fish. Vegans can opt for fortified veggie burgers or soy milk. B12 does come in supplement form, but it's not easily absorbed. Your doc might recommend an injection.