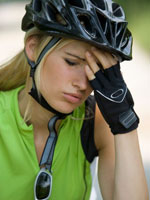 Our thoughts and prayers this week are with the family of
Natasha Richardson
, after the actress suffered a fatal brain injury while skiing in Canada. But it's also left many of us wondering exactly how Richardson was hurt so badly—and whether it's something that could happen to us.
What's scary about Richardson's injury is that she didn't hit a tree or attempt any risky tricks; reports say she simply fell down and hit her head (without wearing a helmet) at the bottom of a beginner's slope. That's happened to me plenty of times while skiing, not to mention while biking, playing soccer, and yes, even once while tripping over a curb during a run.
If reports are correct, Richardson said she felt fine, was joking and laughing shortly after her fall, and insisted on walking back to her room instead of seeking medical care. And hours later, she was fighting for her life.
If traumatic brain injuries can occur so easily—and be so hard to identify—what precautions should we take while skiing, biking, or playing sports? And if we do get hurt, how do we know whether we're in serious danger?