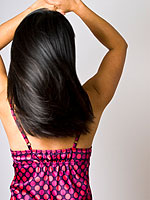 Ah, shine. We all long for it, because heat-styling, dye, even basic brushing can ruffle hairs outer layer, leaving locks dry and dull. But there are
easy ways to get your hair to shine
. Here are a few brilliant ones from the pros.
Secret #1: Dryers come with nozzles for a reason
That unassuming little tool does a very important job, concentrating and controlling airflow to speed drying and keep hair from whipping around. "Aiming the nozzle down the hair shaft increases shine," New York City salon owner Ryan Darius says.
Secret #2: Wash that gleam right into your hair
Shampoos and conditioners with silicones lock down the cuticle, preventing flyaways and fuzziness—and amping up shine. And "theyre lighter than oil-based products, which can leave hair greasy," says Jet Rhys, a salon owner in San Diego, who suggests giving hair a quick cold-water rinse before stepping out of the shower to close down the cuticle even more.
Secret #3: Grime dulls shine
To eliminate product buildup without stripping hair, try this homemade remedy once a month: Add 1 tablespoon baking soda to 2 tablespoons shampoo, then wash and condition as usual. "Sodium bicarbonate, a natural cleanser and deodorizer, removes stubborn residue," says Mario Russo, a salon owner in Boston and Vermont.
Secret #4: Shine-in-a-bottle exists!
Shine sprays and serums swathe hair in silicone. Sprays (ideal for fine to medium hair types) and serums (better for thick, coarse curls) both should be used sparingly, from midshaft to ends only, and right before blow-drying or ironing. "Heat bonds the silicone to hair, creating a natural-looking sheen," says Nathaniel Hawkins, TRESemme celebrity stylist.