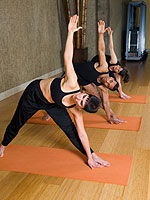 He may look out of date now, but Bernarr Macfadden was a health crusader in the first half of the 20th century. A new book,
Mr. America
(Harper, 2009; $25.99), memorializes some of his prescient advice.


Three meals a day is one too many. Macfadden, a fan of calorie-restriction, mustve known our servings would get out of hand.



Keep on walking. Its virtually impossible to walk too much, he said, and its ready-made exercise that you can do every day.



Good health starts with your spine. Macfadden touted Pilates-like workouts before most people had a clue what they were.