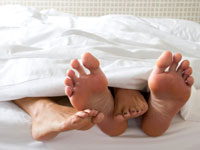 Sex is the glue that keeps most couples together. When the sexual bond is strong, the rest of the relationship—and our general health—reaps the rewards. But its not always easy to keep that sexual spark alive.
Exhaustion, stress, age, and financial worry can all slow us down … or even grind things to a screeching halt.
We wanted to get the latest on how the stuff going on around you is affecting your sex life and how youre keeping it hot in the bedroom. What weve found will surprise—and maybe delight—you.
Q: How often do you have sex?
18%
: 3-plus times a week
"We do it five times a week. To me, sex isnt a chore, its an enjoyment"—
Ella, 58, Morro Bay, CA
)
34%
: At least once a week
("If it were possible, Id probably have more. But Ive learned that quality is much more important than quantity."—
Kay, 50, Sunbury, PA
)
28%
: At least once a month
("My husband has three jobs, and Im in school. Theres not much time left in the day (especially with a toddler in the house)."—
April, 25, Baton Rouge, LA
)
11%
: At least once a year
("Im in a long-distance relationship. We both want it more—hope it happens!"—
Karen, 54, Menomonee Falls, WI
)
9%
: Never
("I found out my husband cheated on me."—
Linda, 60, Chester, NY
)
Q: When was sex the best?
Most women in their 20s, 30s, and 40s answered
: Right now!
Most women in their 50s and 60s said
: In their 40s
Q: What is the most you've had sex in a single week?
| | |
| --- | --- |
| 18% | 14 or more times |
| 23% | 7 times |
| 30% | 4 to 6 times |
| 29% | 1 to 3 times |