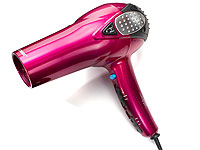 Istockphoto
Q: I can't blow-dry my hair straight on rainy days. What's the trick?A:
April showers can put a major damper on your hard-earned blowout. Even if it's not raining, moisture in the form of humidity can make strands swell, resulting in frizz and overall unruliness. Well-hydrated hair is less likely to suck up moisture from the air. So, to block out moisture and keep hair sleek, you need to smooth and fill in your hair's cuticle—and this process starts in the shower.
Use a lightweight shampoo and conditioner with silicone, emollients, and proteins. Apply a light- to medium-hold gel to towel-dried hair to tame it, and add the weight necessary to keep waves and curls from creeping back in throughout the day. Then snap on your nozzle, and begin blow-drying. Work in 2-inch sections, wrapping each around a round brush, to ensure that no hairs are left damp or fuzzy. If certain strands look rumpled after drying, smooth them over with a flatiron set at a low temperature; those with ceramic plates are least likely to snag or rough up hair. As a final safeguard against the weather, apply a small amount of shine lotion or hair spray to seal out the elements before you step outdoors.