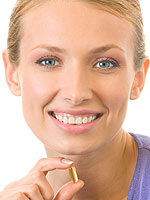 Istockphoto
Q: I've heard that fish oil supplements with their omega-3 fatty acids are good for the skin. Is that true?A:
Absolutely. Fish oil contains two main types of omega-3 fatty acids: docosahexaenoic acid (DHA) and eicosapentaenoic acid (EPA). DHA keeps the brain functioning properly. And EPA greatly benefits skin by regulating oil production to boost hydration and prevent acne, and by delaying the skin's aging process to stave off wrinkles. A 2005 study in the
Journal of Lipid Research
discovered that EPA can help block the release of the UV-induced enzymes that eat away at our collagen, causing lines and sagging skin. Because EPA is both an antioxidant and an anti-inflammatory agent, it can protect against sun damage and help repair it.
Most of us don't get enough omega-3s in our diets—oily fish like herring, mackerel, salmon, anchovies, and tuna are the best sources—so it's a good idea to take a supplement. Look for one that contains 180 milligrams of EPA and 120 milligrams of DHA; take one capsule with each meal, for a total of three per day. (Try
Barlean's Organic Fish Oil
, $20.) If you're pregnant, talk to your doctor before adding a supplement to your diet.