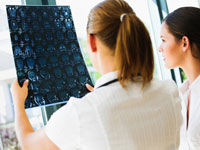 Next spring marks the return of Michael J. Fox to the forum he knows best—acting. He will play a wheelchair-bound love interest in the acclaimed firefighter drama
Rescue Me
on FX. The 47-year-old actor was last seen on TV in
Boston Legal
in 2006. So where's he been? Battling Parkinson's disease and stumping for help.
Fox was diagnosed in 1991. And in 1998 he had a successful thalamotomy, a brain operation designed to reduce Parkinson's symptoms, particularly certain tremors. But he still takes daily meds to control his symptoms, and these drugs are far from perfect. Parkinson's patients lose the ability to make the brain chemical dopamine, and the meds restore that ability—temporarily. Experts say that new treatments are desperately needed.
What about stem cells? Back in 2006, Fox went to bat for political candidates supporting publicly funded research into embryonic stem cells, the ones taken from unwanted embryos in fertility clinics. One day these cells may help cure diseases like Parkinson's. The actor's stance brought him ridicule from talk-show host Rush Limbaugh, who accused Fox of undermedicating so his symptoms would be noticeable on TV and help his cause. But the misguided criticism only energized him. The
Michael J. Fox Foundation for Parkinson's Research
has now poured $126 million into research on treatments and a cure.
Both the political squabbles and scientific research on stem cells are ongoing. Many experts say embryonic research should be pursued, even as nonembryonic research goes forward. A potentially huge advance occurred this summer: Led by an investigator at Howard Hughes Medical Institute in Maryland, scientists converted cells from people with diseases like Parkinson's into a set of new stem cells. In the future, these cells might be re-engineered to correct genetic errors and implanted for treatment.
Gene therapies and drug advancements are also in the pipeline. But Fox knows that defeating Parkinson's will require much more effort. "I'm grateful for my meds," he says. "But it's a little frustrating that the best drug we've got has been around for 40 years." He hopes that changes … soon.