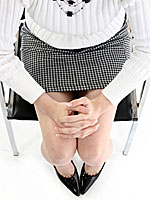 Few women look forward to an annual gyno appointment. Like flossing, shaving, and entertaining your mother-in-law, you see the doc because you have to. But that doesnt mean this crucial checkup should feel like torture. These five tricks will help you be prepared and feel less stressed.
Be patient No. 1
Waiting is never fun. But waiting for an unpleasant event is even worse. And if you have a female gynecologist, "the wait might be longer because patients tend to open up more to women," says Mary Jane Minkin, MD, clinical professor of obstetrics and gynecology at the Yale University School of Medicine and author of
A Womans Guide to Sexual Health
.
To shorten your wait and get the most face time, schedule several months in advance, Dr. Minkin says. That way you can ask for the first appointment in the morning or for a slot directly after lunch. And make sure your postlunch appointment is on a nonsurgery day, says Vicki Rackner, MD, president of Medical Bridges, a health-coaching-and-advocacy firm for patients and caregivers in Mercer Island, Washington. "A lot of gynecologists have operative mornings," she explains, "and if an operation lasts longer than expected, all the afternoon appointments will be late."
Wait your way
If you have to wait, use the time in an enjoyable way. "Bring something that relaxes you," says Winnie King, MD, host of Lifetimes
Speaking of Womens Health
and an emergency-medicine physician in The Woodlands, Texas. "It can be a humorous book or calming music on an MP3 player. The goal is to avoid getting more stressed out as time passes."