Virginia Madsen's Rules for Living Better
---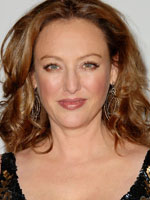 From
Health magazine
"The best thing I ever heard about aging was said by my mother: Make life an adventure. She didnt fear aging—when she turned 40, she had a big birthday. None of the other moms were even admitting they were 40, and she had all 40 candles on that cake! Shes 75 and directing the documentary I just produced:
I Know a Woman Like That
—about women 64 to 94 living vibrant lives. The oldest is a 94-year-old waterskiing champion; the youngest is Lauren Hutton. Their bodies have changed, but theyre all living inspiring lives."
November is the best month
"Im very patriotic. I was raised that way in the Midwest. Im so excited to have teamed up with the League of Women Voters to encourage all women to vote. I really believe that voting is not a privilege—its a responsibility."
Novembers other perk
"Thanksgiving is my absolute favorite holiday. Its only about love and family togetherness. Theres no hype, no presents, no pressure—just FOOD!!!"
How she became the poster woman for Botox
"Someone was criticizing an actress for using Botox, and said to me, 'You would never do that. I cant criticize other actresses—its just so hard for any of us to get work—so I replied, 'Well, I do. Then Allergan asked me to be a spokesperson."
Shes a beauty product pragmatist
"I like La Mer, but its really, really expensive. And I dont have time to shop for that. So I use Nivea and Neutrogena because I can get them at the drugstore … and they work."
She cant believe she learned to surf
"I couldnt do it in my 20s, but I found an absolutely gorgeous guy on Maui who said, 'I can teach you how. This time I was defiant, and I learned."
Nips? No thanks
"Im not there yet. (Madsen recently turned 47.) I like to look like me. Im not freaked out by my age or lines. But ask me again in 10 years!"
Her 10-minute de-stress solution
"If Im motivated, yoga. If Im not,
All My Children
. Im missing it right now, but Ive got it on TiVo."
Her stay-young plan
"I always look ahead. I believe when youre 30 you should ask yourself: What kind of 45-year-old will I be? What kind of 60-year-old? Am I going to look like hell? How will I feel emotionally? Prepare and good things will come."
Last Updated: October 15, 2008
Get the latest health, fitness, anti-aging, and nutrition news, plus special offers, insights and updates from Health.com!