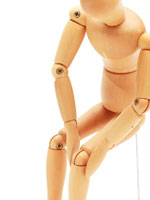 There's one part of me that's always felt older and more out of shape than the rest of my body: my knees. Maybe it's because I tore a bunch of ligaments in one knee when I was in the fourth grade. Maybe it's because up until about two years ago, I did very little running or weight-bearing exercise, and I'm sure my knees have always been weaker than they could have been. Whatever the cause, I've had a long-standing fear about landing too hard or jumping too high and twisting something or worse—plus, a constant ache in both knees whenever I sit with my legs bent for too long.
A few weeks ago I had the chance to meet
Jason Theodosakis, MD
, an assistant professor at the University of Arizona College of Medicine and author of
The Arthritis Cure
. "Dr. Theo" wanted to give me some pointers about how to prevent osteoporosis and osteoarthritis—something I'll admit I wasn't that worried about at the age of 26. But I was curious about my knee pain, so I gave him a quick description to see what he thought.
Moviegoer's knee puts me at risk
"Aah, you've got moviegoer's knee," he said, as I described the uncomfortable sensation I get when sitting at a lunch counter, on a train ride, or even at my desk while typing. Huh? He explained that my pain is most likely caused by a decrease in blood flow and hyaluronic acid, a joint lubricator, when the knee is bent at a 90-degree angle. (Another condition,
patellofemoral pain syndrome
, can also cause similar pain.) Leg-strengthening exercises can help improve symptoms, he said—and I agree that since I've been hitting the weight machines regularly, I definitely have noticed less pain. But he also told me that moviegoer's knee can be a sign of early
osteoarthritis
. At the very least, this should be a wake-up call that maybe it
is
early enough to start thinking about the future.
New research
released this week from the Agency for Healthcare Research and Quality shows that 1 in 10 American adults was treated for arthritis in 2005. The most common form is osteoarthritis, usually attacking the fingers, knees, and hips. I always thought of arthritis as affecting primarily senior citizens, but it can actually strike much earlier. My dad, I realize now, has had arthritis in his wrists since his mid-40s. I'm also at risk simply
because I'm female
: Our hormones, anatomy (wider hips), and even the way we tend to run (more upright than males) increase our chances of suffering knee injuries that can lead to arthritis.