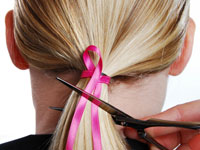 Istockphoto
Hair
Thinking of trading in your long hair for a bob? Consider donating your clipped strands to an organization that provides wigs for cancer patients and children with hair loss. Hair must be clean, completely dry, and fastened into a ponytail 8 inches long (or longer, depending on the charity). Some charities accept gray and colored hair. Here are
donation requirements
for Childhood Leukemia Foundation, Locks of Love, Looks Like Me, and Beautiful Lengths.
Blood
The nation's blood supply is provided exclusively by generous people. To meet the needs of cancer patients, accident victims, premature babies, and many others, the American Red Cross requires 38,000 blood donations every day, including holidays. Want to donate? You must be 18 or older, weigh at least 110 pounds, and be free of bloodborne diseases like HIV or hepatitis. It takes about an hour, and there are no significant risks or side effects. For more information, visit
GiveLife.org
.
Bone marrow and stem cells
For patients with leukemia or lymphoma, the best hope for a cure is often a transplant—during which all blood-producing cells are killed and replaced with healthy bone marrow or stem cells from a donor whose blood and tissue types match their own. The National Marrow Donor Program (NMDP) Registry solicits donors and matches them to those in need. For more information and to register, visit
Marrow.org
.
Umbilical cord blood
The blood cells in a newborn's discarded umbilical cord can be used in a transplant and don't have the same tissue-matching requirements as bone marrow or stem cells. Because the match can be less perfect, cord blood is especially helpful for patients who belong to an ethnic minority, in which the number of potential matching bone marrow or stem cell donors is much smaller. If you are pregnant and wish to donate your baby's umbilical cord blood after birth, find out how at Marrow.org.
Breast milk
Breast milk is best for all babies, but for some—especially those with severe allergies or who are in intensive care—it can mean the difference between life and death. When a baby is adopted or the mother can't produce enough milk (she has had surgery on her breasts, for instance, or has been treated for cancer), the only recourse may be donated milk. To volunteer, visit the
National Milk Bank
.
Organs
Today it's possible for living donors to provide a kidney, a segment of the liver, even the lobe of a lung or the pancreas. For more information, visit
LivingOrganDonor.org
. To donate organs in the case of your death, simply be sure to indicate it on your driver's license.