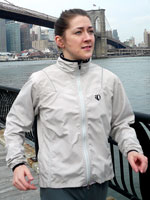 Once a week, my morning run strengthens more than my hamstrings and lung capacity. It nurtures my relationship with the man from whom I inherited the running gene in the first place—my dad.
We've been running buddies for as long as I can remember, crossing the finish line together at kid-friendly fun runs, then grown-up marathons. Roughly a decade ago, when I was 20 and Dad was 48, we began a tradition: Rise early Sunday morning, drive to a trail situated halfway between my Seattle apartment and Dad's home in Stanwood (40 miles away), and ease ourselves into a steady 10-miler.
We were unstoppable, Dad and I, although not in the sense you might expect. We talked about everything—from family to politics—while we ran.
Then, two years ago, I moved, resettling nearly 2,500 miles away in New York.
Not surprisingly, some things have changed. I've learned to navigate the New York subways, decipher a Queens accent, and actually consider a 250-square-foot studio apartment enough space to live in. What hasn't changed? Sunday-morning runs with Dad.
East Coast, 11 a.m. West Coast, 8 a.m. A final chug of water for me. A last gulp of Gatorade for him. In one time zone, a car door slams shut. In another, an apartment door locks. And we're off, our respective cell phone headsets firmly in place.
While Dad lopes past a quaint diner and grazing farm animals, I jog by a few bodegas, a block of crowded tennis courts, and the Brooklyn Bridge. We're running together, united by wireless communication.