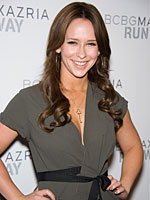 Getty Images
There arent many Hollywood actresses who will happily tell you that they "cant wait until they turn 30," but Jennifer Love Hewitt is not your typical celebrity. Sunny, well-adjusted, and almost absurdly down to earth, Hewitt plans to celebrate her birthday not by dancing on tables at a club but by running a marathon. "Thats just something I want to give to myself," she says.
If her eagerness to embrace the coming year is unusual, its at least understandable, because Hewitt is in a great place in her life. The former star of
Party of Five
and films like
I Know What You Did Last Summer
is embarking on the fourth season of
Ghost Whisperer
, the creepy hit drama in which she plays Melinda, a young newlywed able to pass messages from the dead to the living. (Shes also taking her own trip down the aisle next year with Scottish actor Ross McCall.)
Hewitts positive attitude toward aging extends to her physique, too. Shes proud of her curves, seeing them as a definition of womanhood and—someday—motherhood.
On a rare day off, she shared how her body image has evolved, her get-fit tricks, and how her fiance has changed her life.
Your character, Melinda, rarely seems to get a good nights sleep. In real life, are you as sleep-obsessed as most of us?
Im not a great sleeper. My mind is always going, so one way Ive found to calm my head down is to cook dinner when I come home from work, which gives me between a half-hour and 40 minutes to completely decompress. If I can do that, most nights I sleep well. I think decompressing is one thing people dont do enough of. Also, baths are big, big deals. I have to take a bath every night before I go to sleep.
How do you keep your energy up?
I eat tiny snacks every hour and a half, whether its a bite of salad, a piece of cheese, or an apple. I also keep avocados in my trailer; I cut one in half and put lime juice on it. Its the greatest snack—it has good fat and will really fill you up.
What are your food weaknesses?
Pizza. And I was a big ice-cream person before I found out I was allergic to it. Ive gone seven months without having any dairy, aside from a bit of cheese. It was a really hard transition for me. My number-one health recommendation is to go to a naturopath. Its changed my life—my immune system is better, my energy is better. They do these tests to find out what foods your body doesnt respond well to. And all of a sudden you think back and say, "You know what? Every time I ate Chinese food, my stomach did hurt a little the next day."
How do you feel about turning 30 next year?
Im so excited! Its my dream age. I dont know why but, literally, since my 12th birthday Ive wanted to turn 30. I feel like theres nothing more graceful or elegant than the beauty of a female when she has figured out who she is. And thats what happens for women in their 30s. Im so ready to not be insecure and not ask so many questions, to not put so much pressure on myself but to just actually be. All my girlfriends were like, "I cried all day when I turned 30. I couldnt have a party." I want to be with 500 people that I dont know on my 30th birthday!
One of your goals is to run
a marathon by the time youre 30. How did that idea come about?
I really wanted to wake up on my 30th birthday and give something to myself and say, "This is my personal goal." My concern is not if I run the whole marathon—if Im running it or walking it doesnt really matter to me. I just want to know that Im in shape enough that I could do it. Im so excited, although training has been a lot harder than I thought.
How so? Whats your regimen?
A friend of mine does marathons all the time, and shes been taking me out. You initially do hour-and-a-half runs, where you run for six minutes and then break for a minute and a half. It doesnt sound that difficult, but if youve never done physical activity like that, you think, OK, maybe Ill run just two blocks instead of a marathon. Once you get into it, though, its really addictive. It truly is this weird high. When you start pushing yourself, you realize how powerful the human body is.
What else do you like to do to stay fit?
I enjoy yoga for the mental part of it, but it took me a while. My first time, I hated it. I was like, This is ridiculous, I could have been at the grocery store or could have visited four of my friends during the time I was in a very stinky, sweaty room with a lot of people I dont know—and Im miserable. But now I love it.