How to Make Your Home a Skinny House
---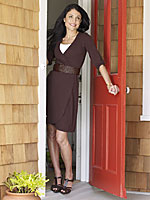 From
Health magazine
When you think about what causes pounds to creep on, an immediate list of usual suspects comes to mind: junk food, skipped workouts, supersize portions. But you might want to add your house to that fat list. "Everything from the lighting in your dining room to the size of your dinnerware could be making you gain weight," says food psychologist Brian Wansink, PhD, author of
Mindless Eating: Why We Eat More Than We Think
. You can think of it this way, though: If your home can make you gain, it can help you lose, too.
Here,
Health
s natural-foods chef and columnist Bethenny Frankel shows you the best ways to slim down your space—from the moment you walk in the door until you hop into bed. Use these expert tricks to make your home way more diet-friendly.
---
Last Updated: September 02, 2008
Get the latest health, fitness, anti-aging, and nutrition news, plus special offers, insights and updates from Health.com!