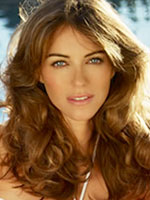 ELIZABETHHURLEY.COM
Surprising revelations from the super-talented (and busy!) actress, supermodel, and entrepreneur.
Q: It's so tough to eat healthy as a mom. How do you avoid grazing on all the snacks?A:
We don't have many junk-food snacks in the house—the worst we have are organic cookies and the odd bar of chocolate. We gave up soft drinks, and [my son] Damian's never had one…yet! Of course, if anyone brings junk food into the house, we all fall on it like starving urchins!
How do you stay in such great shape? Are you a gym person? A:
I don't do much exercise, per se, but I'm very active. I don't sit still and charge around like a mad thing most of the time.
What three things are always in your fridge? A:
Eye masks (me), soft fruit (Damian), and cheese (my husband)!
Rumor has it that you're starting your own line of organic foods. True? A:
I am developing a line of foods, and I'm hoping that it will launch sometime in 2009.
Women love that your beachwear line has such figure-flattering suits. What's the secret to buying swimwear that looks great? A:
Almost everybody has a different size top and bottom—me included—so seek out brands (like mine!) from which you can buy the top and bottom separately. It makes a massive difference.
You're part of Estee Lauder's Sensuous fragrance ad campaign, focusing on sensuality at any age. What's your secret to saying alluring?A:
I think a woman looks very sensuous when she is relaxed and confident. It's just a lovely way of being.
Read more about
Elizabeth Hurley's New Natural Life