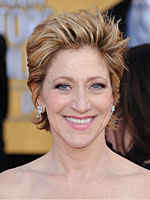 Getty Images
The moment a doctor says "We have bad news" is life changing. For me, time stopped. I couldn't walk. I couldn't breathe. Luckily I was with my boyfriend, because I would have passed out otherwise.
But then I thought: I am a strong woman. I have resources to get good treatment, so why not me? Perhaps, better me than some single mother of three kids who is working three jobs. I know I can handle this.
It was very important for me to keep my diagnosis under the radar, even from the cast and crew of
The Sopranos
, because well-meaning people would have driven me crazy asking, "How are you feeling?" I would have wanted to say, "I'm scared, I don't feel so good, and
my hair is falling out
My good friend, Ilene Landress, the show's producer, kept things quiet by working my schedule around my treatments. With the cancer a secret, I bucked up, put on my Carmela fingernails, and was ready to work.
I take very good care of myself (mostly because I didn't many years ago), and that served me well during
chemo
. Running every day made me feel calm and strong, even as my self-image suffered from my hair falling out. I'd wear all kinds of crazy little hats with hair attachments. I'd even wear them to bed so I wouldn't be frightened if I walked by a mirror before I was really awake. I gained weight, too, from eating fatty food, the only stuff I could tolerate on the days I was really nauseated.