Any scoop on the new season of One Tree Hill?
The show is going to be really exciting this year, because it's taken a dark turn—everyone's struggling with hard issues.
Let's talk fitness. You work out with a trainer, right?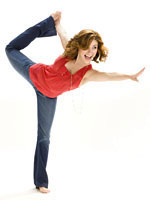 With the long hours on the show, it's hard to get in the gym. But when I was home in L.A. for the summer, I spent four days a week with my trainer, Jason Walsh, who is just…the dude. And I spend a lot of time with Harley Pasternak too. They're the best trainers in L.A., and they share a similar attitude of "We don't want you to be skinny, we want you to be in the best shape for you." I'm not a waif–y girl and never will be. I think it's healthy when fitness experts encourage fitness rather than getting a certain body shape. And I'm Italian—I love food. I'm not going to cut out bread and pasta and wine to be thinner.
Plus, you're more fun. We all have friends who won't touch any bread.
I'm not going to dinner with somebody who eats like a bird, nor do I want to eat like a bird. But it's weird: In our business, I'm a size 2 and considered curvy. It's important to remind young women, "Listen, even skinny girls have cellulite, even Halle Berry has cellulite, and what you see in photos isn't totally real."
You're into boxing as well, right?
I
love
to box. I once took a kickboxing class in college and got totally hooked. One of the things Jason and I do is heavy-bag training. He puts on the padded gloves, and we do combinations. It's a good thing as a woman to feel powerful, and boxing is a great way to work out all your aggression.
Any other workout obsessions?
I just got a vibrating plate called a VibraSlim and I'm so excited about it. You can work out on it, but I use mine after a workout to shake out my muscles. And what's neat is that it helps you build bone density. I'm 26 now, and thinking about the fact that women are developing osteoporosis in their 40s.