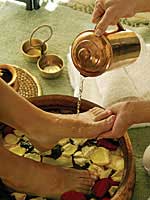 Canyon Ranch
Tucson, Ariz., and Lenox, Mass.
800-742-9000 or www.canyonranch.com
Canyon Ranch helped pioneer the healthy spa concept in 1979 and still does it better than anyplace else. Healthy, delicious food? Check. Top-notch skin care? Doris Day, the dermatologist on our panel (
meet all of our judges
), rates this spa a perfect 10.
In the fitness category, Jo Hannafin, MD, gives Canyon Ranchs offerings, which range from restorative yoga to hard-core hiking, the highest score of any spa we evaluated. Our judges also love the staffs high level of accreditation and training. (The place is crawling with doctors.) A nurse tailors a schedule to help you meet your health goals, from lowering
cholesterol
to beating
insomnia
, and may also suggest tests like a mammogram or a stride analysis—all done on-site.
"Canyon Ranch has the high standards that other spas strive to match," says Melisse Gelula, editor in chief of Luxury SpaFinder Interactive. Choose between desert (the 240-guest Tucson spa) and mountains (the 200-guest Lenox location, tucked into the Berkshires), both of which take maximum advantage of the natural beauty.
Dont miss: Yamuna Body Rolling, done with special balls to build strength, flexibility, and balance.
Cost: $5,130 and up per week, per person, double occupancy, at Lenox ($5,750 at Tucson), including meals and some treatments and wellness services. Lenox also offers a three-night stay starting at $2,040.