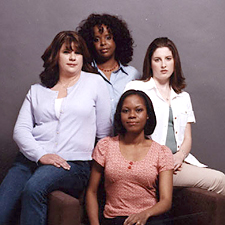 Each of these women has an illness—lupus, breast cancer, bipolar disorder—she wouldnt admit to anyone … until now.
"She has cancer," I told my 14-year-old, who wondered why one of her teachers had not returned to work for the new school year.
"Will she be OK?" she asked.
"Well, no," I said. "She may not live much longer." Id just learned that the teacher had been sick for a year and had kept her condition from everyone but a few colleagues. This sudden and devastating news, which spread quickly through the schools network of mothers and was followed up in a poignant letter from the school soon thereafter, had hit like an emotional atomic blast. No one knew. No one even suspected.
"I understand shes sick," my daughter said, "but why would she want to hide it?"
Why, indeed? Arent we the gender that talks more and listens better? We usually happily share information, even private information. Why, then, do some women keep mum when illness enters their lives? Here, secret keepers reveal the very personal reasons they hid an illness or condition—and what inspired them to finally spill the beans. And one woman explains why shes still not telling.
Next page:
The "don't call me sick" secret