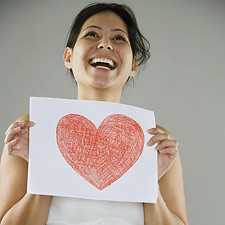 One minute Elizabeth Baska was wrapping Christmas gifts … "and suddenly I couldnt breathe," says the Seattle mom, who was 36 at the time.
Just as she had done during a similar episode two years earlier, she called 911. And, once again, the paramedics who came diagnosed the incident as an anxiety attack. But this time, Baskas symptoms continued to worsen, so the emergency personnel gave her an
EKG
—and determined that she was having a
heart attack
. "If I were a man, I think everyone would have been quicker to realize that it was my heart," says Baska, who now takes pulse-slowing medications to keep her safe. "I never considered the possibility because I didnt think women needed to worry about heart attacks."
The truth is, more than 450,000 American women die from heart disease each year. For two decades, it has killed more women than men, and the gap is actually widening as mens heart attack death rates improve faster than womens. Yet only a third of women in the United States consider themselves at risk for heart disease, according to a 2006 poll.
"Most women worry far more about breast cancer than heart disease," says Elsa-Grace V. Giardina, MD, cardi­ologist and director of the Center for Womens Health at New York Presbyterian Hospital and Health Editorial Advisory Board member. "But for every woman who dies from breast cancer, 10 die from heart attacks."
There have been advances:
Heart disease
deaths in women actually declined between 2003 and 2004. But the lifetime risk of dying of cardiovascular disease (CVD) is still nearly one in three for women. And thats why the American Heart Association (AHA) recently released new guidelines underscoring the impor­tance of healthy lifestyles in women of all ages to reduce the long-term risks of heart and blood vessel diseases.