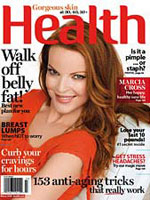 On "Desperate Housewives," Marcia Crosss Bree Van de Camp quickly finds Mr. Perfect, Dr. Orson Hodge, and the two build a family together. Cut to real life: For years, Marcia had searched for the right guy and battled infertility. But during the shows first season, the then-42-year-old met stockbroker Tom Mahoney. They married in June 2006 and, through in vitro treatments, had twin girls, Eden and Savannah, now 13 months old. Here, the Emmy-nominated actress opens up about her struggle to conceive, her pregnancy health scare, and what lifes like with twins (crazy, but shes not complaining!).
Q. How did you meet Tom?A.
I was walking behind him at a flower shop, and I loved his voice. I thought, Oh my God, youre stalking someone, get out of the store! I asked the sales woman, "Whos that guy?" She said, "Do you want to leave your number?" Its wild—my whole new life got created that day. If that woman hadnt said that, I wouldnt have left my number.
Q. Youve said that the years between Melrose Place and Desperate Housewives were a time of personal transformation for you. How so?A.
When I wasnt getting as much acting work, I went to school and got my masters in psychology. I kept growing and striving and changed a lot internally. Because I got healthy inside, I was able to love a man who was right for me.
Q. Youd struggled with infertility for years. Did you ever get to a point when you thought, Ill never have kids?A.
Before I hit 30, I was already longing for kids. But for years, love and marriage eluded me. In my early 40s, I considered adoption, and I tried getting pregnant on my own through a sperm donor, but neither worked out.
Q. Then you got pregnant soon after getting married.A.
We decided to skip our honeymoon and try in vitro after the wedding. I had already been through infertility treatments. Its very, very difficult to get pregnant in your 40s. Its costly and tough on your body and your relationship. Before Tom and I got married, I told him, "I dont know if this is gonna happen." Tom said, "I want children, and if we cant have kids together, then well adopt." I wept and thought, This is the man for me.
Q. What was your reaction when you discovered you were having twins?A.
Tom and I were deliriously happy when we found out I was pregnant. When we found out we were having twins, I was terrified. As a mother, being outnumbered is scary.
Q. Did you tell anyone on the Desperate Housewives set about your pregnancy?A.
You dont want to tell anyone at first. In my biz, news spreads like wildfire. I did tell my makeup artist, Stacy Halax, though. You have to have friends to support you.
Q. Was being pregnant what you thought it would be like?A.
I had really romanticized being pregnant. Then I realized, This is awful! I was so nauseated in the beginning.
Q. Did you change how you ate when you were pregnant?A.
I ate so much. You would think itd be fun, but it wasnt. I was up at 2 in the morning eating steak!