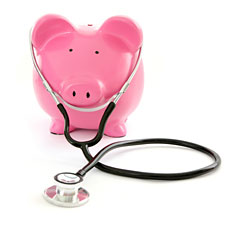 You work out, you try to eat right, and you want to buy the healthiest stuff, but, boy, this healthy-living thing can really hit you in the pocketbook. The money flies like it's got actual wings—to your gym membership, running shoes, that fancy juicer, the organic meat at dinner—and that's just on Monday.
The question is: What "healthy" stuff do you really need? "We're willing to spend a lot of money on being healthy, but we've got to keep our wits about us," says Mary Hunt, author of
Live Your Life for Half the Price
. "People think that if something says it's healthy, it must be. But that's not always so." Truth is, while some good-for-you investments are worth their weight in carrot sticks, others are more hype than wholesome. Here's how to splurge on things that really make a difference, from the grocery to the gym.