The six moves in this 20-minute full-body strength workout involve several muscle groups to help you build more strength in less time. Do this workout two times a week (be sure to rest at least one day in between sessions).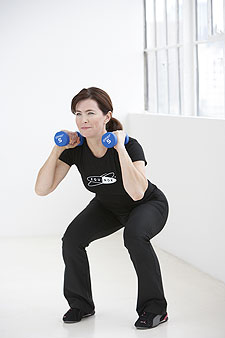 Squat and Press
Tones shoulders, butt, calves, front and back of thighs
Stand with feet hip-width apart holding a 5- to 8-pound dumbbell in each hand at shoulder height, palms facing each other, and elbows in. With weight on your heels and knees behind your toes, reach your butt backward and bend your knees to about 90 degrees. As you return to standing, press the weights overhead, keeping palms facing in. Lower weights to shoulders, then squat and repeat the move. Do 3 sets of 12–15 reps.