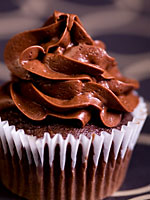 The treat:
A large chocolate cupcake with icing (240 calories)
Try this:
Dust off your bike for a moderate-intensity 30-minute spin.
Or this:
Hit the sand for 27 minutes of beach volleyball.
Or this:
Do this 24-minute mini-circuit: Run up stairs for 1 minute, then briskly walk back down in 1 minute. At the bottom, do jumping jacks for 1 minute. Rest; repeat 7 more times.