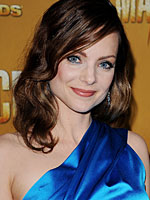 Getty Images
How does the busy actress find time for her husband (country-music star Brad Paisley), their son, Huck, and a budding writing career? She multitasks.
"The best advice I got about how to manage as a working mom came from Annette Bening. She said, 'People say you can't do it all. But you can. Just take your kids everywhere with you.' I haven't figured out how to make it all work yet, but I take Huck (now 16 months old) with me. And I find projects I can do at home, like writing a children's book,
Henry and the Hidden Veggie Garden
."
She makes work work.
"It's hard to commute from our home in Tennessee to L.A. with a baby, so I told the producers of According to Jim that I want to do only 10 episodes [out of roughly 22] this season. And they're willing to work with me."
Mascara—a busy wom­an's best friend.
"If I don't have time for makeup, I reach for an eyelash curler and Bobbi Brown Everything Mascara."
How she and her husband stay in sync.
"Brad and I recently started using Apple's iCal and unified our calendars. Now, any event that's put on Brad's calendar by his manager goes on mine, too."
Chicken soup is her favorite fast food.
"I do the cooking, so I have a lot of simple recipes. For soup, I buy a rotisserie chicken, put it in broth, and boil it until the meat's falling off the bones. Then I add chopped garlic, onion, red potato, celery, and cook it for an hour. It makes the house smell great!"

Me Time is a must.
"If I consider something a priority, like exercising or getting a massage, I put it on my schedule. Once it's there, I know it will happen."
When I need to get away from it all ...
"Reading is one of my favorite ways to unwind. On my bedside table now is a book my sister recommended,
Extremely Loud and Incredibly Close
by Jonathan Safran Foer. It's so good."