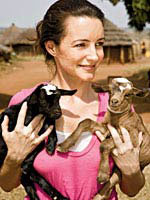 Q. You wouldnt want to adopt, then hand the child to a nanny?
A.
Absolutely not. And frankly, I dont know anyone who does that. Sarah and Cynthia are very, very hands-on mothers, and its been amazing to watch them be able to do it. But if Im by myself, then Ill have to be the provider and the good mother. Id still like to find a man and have a baby with him if thats possible. I havent given up.
Q. When do you feel happiest?
A.
When Im walking my dogs.
Q. What woman most inspires you?
A.
Wow, so many. My mom. Angelina. Hillary Clinton. Maya Angelou. Helen Mirren.
Q. Have you met all of them?
A.
Ive met Angelina. I dont know her well, but what shes done is fantastic.
Q. Because she gives a significant portion of her salary to the charities she works with?
A.
Yes, and just because of the fact that she has adopted kids. I admire anyone who adopts children.
Q. Many people involved with charities say they get back more than they give. Do you?
A.
Absolutely. I love acting, but you can get lost in the shallow aspects of it. The charitable work I do makes me feel like my fame is worth something, like theres a purpose to the famousness.
---
Inspired by Kristin?
Here are three easy ways you can make a difference:


Go to www.oxfamamerica.org/join, and sign up for Oxfam Internationals e-mail list. Youll receive important alerts about how you can help end poverty and injustice around the world. Spread the word by writing letters to policy makers and local newspapers.


Skip a meal or organize a lunch fast among your co-workers, then donate the money you save to Oxfams fight against hunger. Want to do even more? Host an Oxfam America Hunger Banquet to educate your school, group, or the public on hunger issues and to raise funds to support Oxfams efforts in helping some of the 2.5 billion people struggling to survive on less than $2 a day.


If youre looking for a truly meaningful gift, visit www.oxfamamericaunwrapped.com to donate a goat, plant 50 trees, or give dozens of other gifts in a friend or family members name. Or make a tax-deductible donation at www.oxfamamerica.org/whatyoucando/donate.


Additional reporting by Brittani Tingle