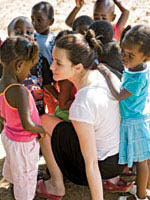 Q. You're 43, and you look 30. What's your secret?
A.
Thank you. I don't know. My mom looks great for her age, so I think genetics has a lot to do with it. Also, I don't drink, I don't smoke, and I love my Ahava sunscreen.
Q. You don't drink at all?
A.
No, I'm a
recovering alcoholic
. I've never hid it, but I've been sober the whole time I've been famous, so it wasn't like I had to go to rehab publicly.
Q. So you pretend to sip Cosmos.
A.
It's caused a lot of confusion out in the world. I get sent many a Cosmo! I never drink them. I believe [alcoholism] is a disease. I don't think you can mess with it. There was a time when people who didn't know me well would say, "Couldn't you just have one glass of champagne?" And I would say, "No." I'm doing well. I still have occasional bad days. Why risk it?
Q. The SATC characters are admittedly fashion-obsessed. Do you like to shop?
A.
There's not a Prada collection I don't enjoy! But sometimes I'm like, "Do I really need another pair of shoes? No."
Q. You play a character whose No. 1 goal in life is to marry and have children. Do you relate?
A.
Well, obviously not! If that were true, I'd be miserable right now. But I can relate to feeling the pressure society puts on a person. My family has never been focused on that for me. I'd love to have children, though. I'd also love to adopt a child—I think about it a lot.
Q. Would you consider going Angelina Jolie's route and adopting from abroad?
A.
After my first trip, my friends asked, "Where's the baby?" And I said, "We didn't go to any orphanages," which doesn't mean I wasn't tempted. But I'd see children who were being cared for by their grandmothers and older siblings, and I wouldn't want to take them away from that. Also, I'm working on myself. If I'm going to be a single mother, I don't want to take it lightly.