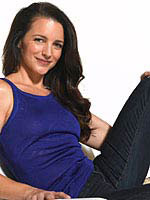 As global ambassador for Oxfam International,
Sex and the City's
Kristin Davis is a tireless champion for women and children in need. Here, she reveals why her work in Africa gives her hope, what makes her happiest, and the major life change she's considering.
For six years, Kristin Davis played Park Avenue–posh Charlotte on the HBO hit series, a role she reprises in the new big-screen version. So it's strange to imagine the Emmy-nominated actress in a sweltering South African village, serving lunch to orphans with
AIDS
. But, in fact, she recently returned from a trip during which she did just that.
Kristin began supporting Oxfam International, a confederation of aid groups working against poverty and injustice, after the December 2004 tsunami in South Asia. Later, she became a global ambassador, a role she describes as "basically a witness" to share peoples' stories. She's a natural fund-raiser, too. After reuniting with her castmates for
Sex and the City: The Movie
, the actress auctioned a chance to accompany her to the film's premiere. The winning bidder donated $52,100 to Oxfam.
Here, Kristin shares what she saw in Mozambique, South Africa, and Uganda, why the people she met there—and the generosity of Americans—have given her a greater sense of hope, and how her travels have changed her life forever.
Q. How did you learn about Oxfam International?
A.
After the tsunami, I had that helpless feeling you get when something bad happens and you don't know what to do. I went to a Web site that analyzed how much of each dollar donated actually goes to charities—and Oxfam was at the tippy-top of the list. The thing that struck me is that they try to rebuild in a way they think will be self-sustaining. They don't want people to end up in a state of poverty because this disaster happened. So I gave money to them.
Q. Why did the tsunami affect you so deeply?
A.
Two things: I was brought up in a household where it was assumed that you would do volunteer work. That was a huge gift my parents gave me. My mom used to volunteer for Planned Parenthood, which in South Carolina is a very important and even dangerous thing to do. My parents still go on Habitat for Humanity trips to build houses. But also, I'd been to Bali and Indonesia four or five times, so I think I felt a little more connected because I'd been there.