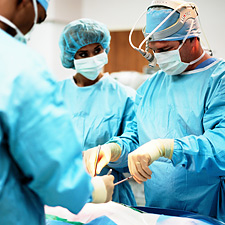 Maybe Im the wrong ex-patient to be telling you this: Experimental surgery erased stage III colon cancer from my shell-shocked body six years ago. But even Ive got to admit that all is not well in Americas operating rooms. Please dont get me wrong. Id go back under the scalpel in a minute if I had a gastro-tumor recurrence (like White House press officer Tony Snow did) or some totally unrelated, unforeseen orthopedic emergency (a knee injury, for instance). But at least 12,000 Americans die each year from unnecessary surgery, according to a Journal of the American Medical Association (JAMA) report. And tens of thousands more suffer complications.
The fact is, no matter how talented the surgeon, the body doesnt much care about the docs credentials. Surgery is a trauma, and the body responds as such—with major blood loss and swelling, and all manner of nerve and pain signals that can stick around sometimes for months.
Those are but a few reasons to try to minimize elective surgery. And I found even more after talking with more than 25 experts involved in various aspects of surgery and surgical care, and after reviewing a half-dozen governmental and medical think tank reports on surgery in the United States. Here, what you need to know about five surgeries that are overused, and newer, sometimes less-invasive procedures and solutions that may be worth a look.