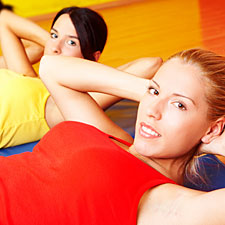 Tired of plugging away at the gym without seeing the pounds disappear? We found simple tricks that will transform your usual regimen into the ultimate fat-blasting routine. Whether you use just two of these strategies or all seven, our insider tips will help you get the calorie-burn you deserve.
1.
Know this:
"Youll be able to comfortably work out longer and harder if youre cool," says Len Kravitz, PhD, coordinator of exercise science at the University of New Mexico. "Being too hot stresses your body out, so you dont perform as well." Translation: You burn less fat.
Do this:
When exercising at home, put a fan in front of your workout area. Hitting the gym? Wait to use the treadmill that has a fan built into the console.