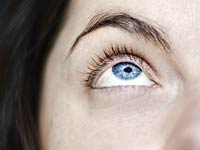 Getty Images
What exactly is it about a woman's body that telegraphs her age, beyond the usual suspects like crow's-feet and laugh lines? Turns out that there are subtle, head-to-toe signs that show whether a woman is 30-something, or more likely closing in on 50.
We gathered simple, do-it-now fixes from top dermatologists, makeup masters, stylists, and fitness experts. With our help, you'll have everyone believing you're 10 years younger in no time.
Sign #1: Barely-there brows
Where did those luscious lashes and brows go? Chalk it up to the age-related drop in hormones that slows hair growth, and all those years of follicle-destroying tweezing.
What you can do:
Stop pruning now.
"Go for a professional brow shaping and learn how to maintain your brows so you don't overtweeze or overwax," says Maria Verel, Diane Sawyer's makeup artist.
Color them in.
Use a brow pencil in a shade slightly lighter than your brows. "Rather than draw a continuous line, make gentle feather strokes," Verel says. Then use a spiral brow brush or baby toothbrush to blend. Or try Anastasia Beverly Hills Brow Fix ($21;
anastasia.net
), a wax pencil you swipe on the brow and follow with powder for a natural look.
Get primed.
A lash primer like Lancôme Cils Booster Mascara Base ($24;
lancome-usa.com
) conditions and thickens what you've got.
Switch mascaras.
Swap your lengthening formula for a thickening product like Maybelline's Volume Express Turbo Boost Mascara ($7; drugstores nationwide). Apply the first coat by placing the wand at the base of your lashes and swishing from side to side. Let it set for 15 seconds, then sweep on a second coat.