Become a master multitasker with this 12-minute full-body routine—part 2 in our 3-month series from Contributing Editor Petra Kolber.
Click here
for the printable version of this workout.
---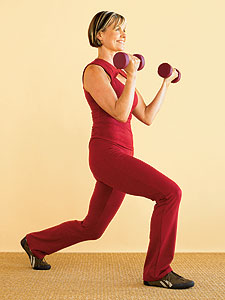 Lunge With Biceps Curl and Triceps Extension
for legs, hips, arms, and core
A:
Hold a 5- to 8-pound dumbbell in each hand, palms forward, and extend arms down by your sides. Step forward about 2 feet with your right foot. Then bend both legs and curl arms.
---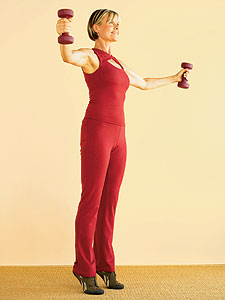 B:
Slowly stand, keeping your knees slightly bent. Pause. Then straighten legs, stand on tiptoes, and raise both arms to shoulder height. Lower your heels and arms to finish the rep. Do 12 reps, and build to 3 sets.
---