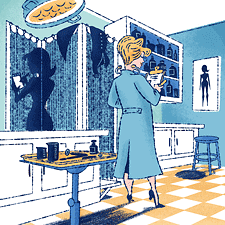 Most women wouldnt dream of skipping their annual pelvic, Pap, and breast exams. But when was the last time you had a head-to-toe checkup—or took stock of other tests you probably need but cant find time for? "For most women, a checkup just isnt on any to-do list," says cardiologist Nieca Goldberg, MD, chief of womens cardiac care at Lenox Hill Hospital in New York. "We have to take the kids to the pediatrician, our moms are sick, our husbands need to go to the cardiologist." The irony, of course, is that you cant do all that unless youre taking care of yourself, too.
Heres a quick rundown of 20-plus tests that experts recommend for women—dont worry, you dont need them all at once. But get to know them, and your body will thank you.
EyesMusts:
Annual screenings, preferably by an ophthalmologist, although you should feel free to see an optometrist. Also, a glaucoma and cataract screening at age 50 and beyond, or earlier if youre diabetic or if youre experiencing double vision, blurriness, or headaches. (African-American women should begin glaucoma screening at age 40 because their risk is higher.)
Maybe:
Glaucoma screening in your 30s if you have a family history of early glaucoma.