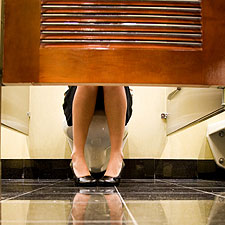 Im at the front door, grocery bag on one hip, toddler on the other, fishing for my keys and thinking, "Im not going to make it." The bathroom is a mere 6 feet away. Plunking my son and groceries on the floor, I run but cant unzip in time. And I cant help thinking: "Do we both need diapers?"
Two years after giving birth, I still cant control my bladder. Im one of 25 million Americans, the majority of them women, with incontinence. More than half of healthy women ages 42 to 50—Im 45—have some form of chronic-peeing problem, usually linked to pregnancy and childbirth, coughing, constipation, heavy lifting, or hormonal changes. Yet, incredibly, 90 percent of us never seek treatment.
I decide Ive got to do something. I dont seem to have any muscle tone in my pelvic floor, and my OB-GYN thinks Ill need surgery. When I ask about alternatives, she suggests physical therapy: my own personal Kegel trainer.
Ive known about, and done, Kegels for years—but not the right way, apparently. Arnold Kegel, a University of Southern California gynecologist, developed the exercise in the 1940s to help women with postpartum incontinence. Experts say
a good Kegel program
can reduce weekly incontinence episodes by 50 to 60%.
So, I figured, why not give therapy a try? And, like a woman on a mission at the gym, I decide to track my progress with a diary.