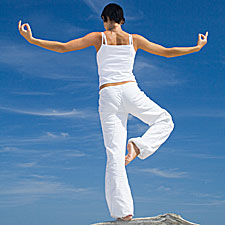 "Heart problems? Me?" If thats your reaction when you hear healthy-heart messages, heres a wake-up call: The fact is,
heart disease
kills far more women each year than cancer does. Its also true that preventing heart problems is getting easier. We gathered the latest tricks—all backed by solid research—to take care of your heart.
1. Get milk
A new study sponsored by the
National Heart, Lung, and Blood Institute
found that, among people who didnt eat a lot of saturated fat, those who consumed more than three daily servings of milk, yogurt, or cheese had systolic blood pressure (the top number) almost four points lower than those who ate only half a serving daily. High blood pressure can damage your arteries, increasing your risk for heart attacks and stroke. Researchers say low-fat dairy is the smart choice, because its lower in saturated fat.
2. Try new moves
Thirty minutes of
tai chi
—a gentle Chinese martial art that includes sequences of slow, relaxing movements—may also lower your blood pressure. In one study, after 12 weeks of tai chi, participants showed a decrease in systolic pressure of almost 16 points. To find a class in your area, visit
Taoist.org
.