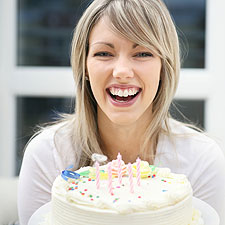 If flipping the calendar to a new year (or counting off another birthday) makes you anxious, stop fighting Father Time and start working with him. Add 20-plus great years to your life—and help celebrate Healths 20-year anniversary—by making simple lifestyle changes, like joining an aerobics class or even having sex more often. Ready to start?
Get moving
Adds 2 to 4 years
Dutch and Australian researchers found that women who do moderate- to high-intensity cardiovascular exercise—like running for 30 minutes, 5 days a week—can live 2 to 4 years longer and live 1 to 3 more years free of heart disease. Running seems to strengthen your heart, as well as other muscles, and lower cholesterol. (A great way to start: Join the
Health Girls Gotta Move Running Club
.) But if you dont think running is the right exercise for you, just walking 30 minutes a day will lower your heart attack risk by half, says Carol Rosenberg, MD, director of Preventative Health Initiatives for Evanston Northwestern Healthcare in Illinois and lead investigator of the Womens Health Initiative (WHI). "Exercise is the closest thing to a magic bullet," she says.
Eat power foods
Adds 4 years or more
A daily handful of dark chocolate and almonds, plus fruits, vegetables, garlic, fish, and even a glass of wine can increase a womans life by 4.8 years (6.6 for men), according to research in the
British Medical Journal.
The foods are rich in antioxidants, anti-inflammatory omega-3 fatty acids, fiber, and other nutrients that can lower your heart disease risk by 76 percent. The age gains also come from a 22 percent drop in breast-cancer risk linked to consuming less fat and fewer calories as you eat more fruit, veggies, and whole grains, the WHI found.
People in other cultures who live to 100 always eat this way, according to John Robbins, son of the Baskin Robbins founder and author of
Healthy at 100.
"These people," Robbins says, "wouldnt recognize a doughnut."