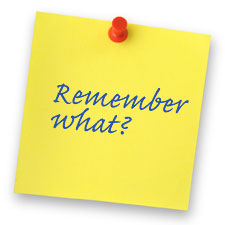 Misplace your keys? Forget your best friend's birthday? If sticky notes are fast replacing your actual memory, you might want to check out the growing list of computer- and Internet-based games and programs designed to help make you think smarter and faster.
These high-tech brain builders are made to appeal to active, health-conscious baby boomers who want their minds to stay as fit as their bodies. They're more interactive and personalized than anything you'd get in a traditional book of brainteasers (many even increase in difficulty as you get better at them). And they can even give you instant feedback on your "brain fitness" scores or rate your skills compared with others in your age group.
But how do these brain-building tools work? Electronic memory boosters stem from research on the brain's ability to change and adapt over time by generating new brain cells and forming new neural pathways. "Scientists now know that there's much more plasticity of the brain than we previously thought," explains Elizabeth Zelinski, PhD, a cognitive psychologist and Nintendo consultant who's also dean of the Leonard Davis School of Gerontology at the University of Southern California.
Studies have also shown that intellectual stimulation can slow or even reverse the brain's natural decline, improving memory and cognitive ability. "There is a growing body of literature that says that being involved in activities that challenge your brain are good for your mind," says Gene D. Cohen, MD, PhD, director of the Center on Aging, Health, and Humanities at George Washington University, and author of The Mature Mind: The Positive Power of the Aging Brain.
Some experts are skeptical about how much such exercises can help. Timothy Salthouse, PhD, a University of Virginia psychology professor and director of the school's Institute on Aging, says that learning to remember a string of numbers, for example, won't help you remember where you put your keys. And no brain exercise will prevent brain-function decline that's a result of aging, he adds.
Doing brain-building exercises certainly can't hurt, though. "We don't know that they don't help, and quite often they're enjoyable," Salthouse explains.
Want to boost your brain power? Here's some info about a few of the newest interactive offerings available in the brain-fitness category.