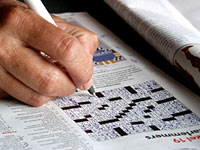 You cant find your glasses (theyre on your head), you forgot the morning staff meeting (it was an hour ago), and the kids are safely at school (but their lunches are still on the kitchen counter). Oh well, when youre crazy-busy, exhausted, or valiantly multitasking from morning till night, somethings gotta give—and its usually your memory. Not to worry: A little memory loss is perfectly normal once you hit middle age, says Martha Weinman Lear, author of the forthcoming book
Where Did I Leave My Glasses? The What, When, and Why of Normal Memory Loss
. But, guess what? You dont have to put up with it. Our 10 memory-boosting tricks will have you remembering where you parked the car in no time.
Keep track of your to-dos
The trick: Play a mind game.
When you plan your day, tie everything together through creative visualization, sort of like telling yourself a story that draws from your appointments and errands. It may sound hokey, but it works, says Scott Hagwood, a memory contest champ and author of
Memory Power: You Can Develop a Great Memory—Americas Grand Master Shows You How
. "Say you have to remember to buy milk and also take your son to the dentist. You can link those tasks together by imagining your son drinking a glass of milk, and seeing the milk wash over his teeth, depositing calcium," Hagwood says.
Ace a presentation
The trick: Stop and smell the roses.
In a recent German study, some students sniffed a rose scent as they matched pairs of cards and then were exposed to the scent again as they slept; other students didnt get to sniff anything. When they woke up, the rose-sniffers were better at recalling the cards they had matched. To sharpen your own wits, try spraying a favorite fragrance on your sheets the night before you give that big presentation.
Remember names
The trick: Exercise your eyes.
Before you walk into your next cocktail party, move your eyes back and forth horizontally for 30 seconds. Yeah, you might look weird, but British researchers say the exercise can help you retain words (including names) youre about to hear. The horizontal movement makes the brains hemispheres interact, and thats important in memory retrieval, the experts say.