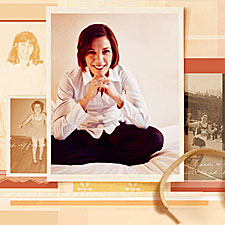 Its not easy living in the head of a Fat Girl, as Lisa Delaney,
Health
Special Projects Director, makes plain in
Secrets of a Former Fat Girl
(Hudson Street Press, Penguin, 2007). Her vivid recollections sent me back to my own Fat Girl days, when food and hunger were both friend and enemy, when flesh was a burden I longed to shed. Yet anyone, at any weight, can benefit from one of Delaneys basic lessons:
Becoming the person you long to be is inevitably paired with good-health habits like exercising and eating nourishing foods.
Here, Delaney (who has also launched a
Web site
) talks about her journey from self-sacrificing, food-obsessed Fat Girl to happy, healthy woman, who also happens to be a size-2 athlete—and shares the stories of other women who are weight-loss successes.
Health: Why did you write the book?
Lisa Delaney: When people find out that I was once fat, theyre shocked and hungry for information. There arent many books for women who approach weight loss without nagging. I wanted to coach people through the process of changing the way they think about themselves. I wanted to help them believe that they are the type of people who can lose weight—because thats the real issue here. There are many women out there who have re-imagined themselves as I have. And the size of my jeans is the least important change.