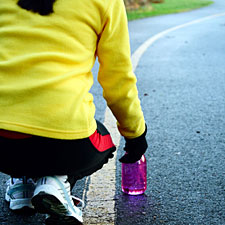 "If you have never been called a defiant, incorrigible, impossible woman… have faith… there is yet time." — From
Women Who Run with the Wolves
by Clarissa Pinkola Estes
As I sat down to write, the notion of "pack mentality" was in my head. Ive always been what I thought of as a solitary runner. I look forward to the ritual of getting up with the sun, enjoying a morning cup of coffee with open windows and a quiet house, going through all my pre-run motions, and then running and returning while half the city is still asleep.
This past Saturday, however, I got a taste of what its like to run with a pack—I passed a running group that was stopped for a bathroom break at the Lake Calhoun boathouse, and a few minutes later, they very easily caught up to me. Instead of letting them pass me by, I pushed hard and ran alongside them for about 10 minutes, what I estimate to be about a mile.
They were familiar with one another, their chatter and laughter punctuated with sharp breaths and the staccato slapping of their feet against the pavement. I felt like I was a part of something big—a team, a group effort. As a non-athlete most my life, this was a new experience for me, and it changed the way Ive been thinking about running. Now Im thinking its high time to find a running group to get me through some of the long, hot days of marathon training.
My mother has a circle of extremely close girlfriends (and really, that is an understatement—they are like sisters, and have been best friends since something ridiculous like 7th grade). Over the years, Ive witnessed their many "girlfriend getaway" weekends to Northern Minnesota, but one sticks out in my mind—when my mom came home, she was talking about this book,
Women Who Run With the Wolves
, by Clarissa Pinkola Estes. One of the books many themes is "the psychic bond (women share) in their fierceness, grace, and devotion to mate and community."