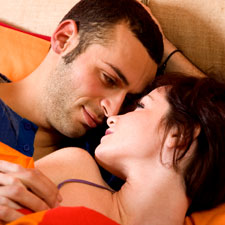 More than 1,000 of you told us what really turns you on. See the results of our healthy sex survey!
We all know from experience that when the sex is good our relationships seem to be in better shape, too. Theres a scientific reason for this: Experts tell us that the hormone oxytocin, which is released during lovemaking, has a serious bonding effect on partners. (Not surprisingly, we get that same hormonal buzz right after childbirth, bonding us with our babies.)
Whats keeping your engines revved—and what isnt? Check out our survey results to learn some of the most private stuff you told us youre doing between the sheets.
The basics
How often do you have sex?
At least once a week 64%
"We have sex 4 times a week. But we're so tired all the time that we have to work ourselves up for it. We have to wake up when the baby is asleep, so it's just not as spontaneous as it used to be." –Ilene, 33, Charlottesville, Virginia
At least once a month 24%
"Once or twice a month is enough for me, but maybe not for him." –Sally, 40, Boston
Once or twice a year 8%
"Id like to do it more, but I think weve gotten kind of bored with and disconnected from each other. Its just not very fun anymore." –Mary, 54, Seattle
Never 4%
"Youve gotta have good communication to have a great sex life, and we dont. Were not having sex. We are actually struggling to be able to complete just one task without fighting." —Joyce, 44, Kansas City
Whats your favorite position?
Missionary 33%
"Im boring. I like the missionary position. I just have better orgasms that way." –Lisa, 31, Baltimore
Woman on top 27%
"That often satisfies both of us because of the depth of penetration and the angle. We like positions where we can face one another with our eyes wide open." –Julianne, 43, Orlando, Florida
From behind 23%
"Normally, it starts with him on top, then switches to me on top, and ends in doggy style. Its a routine, but you kind of know what works for you when youve got a 5-year-old beating down your door, saying, 'Mom, I want chocolate milk." –Britt, 37, Dallas
Anything unusual 17%
"I like when Im kind of diagonal to him. It makes it easier for us to get together." –Nicole, 32, Washington, DC