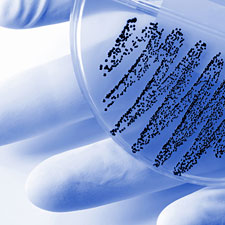 When I heard that high schools were closing and teenagers were dying because of the
MRSA superbug
, I felt lucky. Since the middle of 2006, Ive had methicillin-resistant
Staphylococcus aureus
six times and somehow managed to avoid the worst: Ive never been hospitalized and dont fear for my life. But, please, take my advice and do everything you can to avoid this dangerous infection.
My first episode was in July 2006. I live in Boston and was going to visit a friend on Nantucket. I leaned back in my seat on the plane and felt a dull pain, like someone was pressing really hard on my
buttock
. When I arrived I asked my friend to take a look. That sounds embarrassing, but I couldnt see the problem myself. She said it was just a
pimple
but really red. By the third day the irritated area was more than three inches wide and burning sharply. I was nervous, so I left the island early and went to my doctor.
He gave me an antibiotic called
Keflex
for a skin infection, but the pimple just got bigger, hotter, harder, and redder. Sitting was almost impossible. And soon it wasnt just my buttock that ached. I had developed a second spot—on my labia!